Los Angeles Times Sunday, April 21, 2002

POP MUSIC
Singing Their Own Fates
With their nonconformist music, female Mexican artists have become a pop force to reckon with.

By AGUSTIN GURZA

Mexico's Alternative Divas
Lulled into a Kinky Groove


On the list of the top five best-selling Latin artists last year in the United States, there's only one woman. She's from Mexico, and she's No. 1.

Paulina Rubio, a sexy pop singer with blond hair and fluffy material, outsold salsa heartthrob Marc Anthony, mariachi monarch Vicente Fernandez and L.A. banda bad boy Lupillo Rivera, according to year-end sales reports from SoundScan.

Rubio, however, represents only the most visible--and critics would say, most disposable--faction of female performers who have emerged as a significant force in Mexico in the past decade or two. Indeed, market-savvy artists such as Rubio and Thalia, another high-gloss commercial creation, tend to steal the spotlight from a swelling movement of lesser-known but more challenging artists who haven't drawn mass-media attention.

Chances are you won't see Mexico's most rewarding female artists on Spanish-language television or hear them on commercial radio. They don't have major-label contracts and only rarely travel here on tour. But the number of independent female performers making original and nonconformist music in Mexico is approaching critical mass, according to fans, promoters and independent labels that have given many of these alternative artists a chance.

"Women are defining alternative Mexican music today, much the same way male rock groups like Café Tacuba did in the 1980s," says Betto Arcos, host of "Global Village," a world-music show on Los Angeles radio station KPFK-FM (90.7). "Their music is different, it's good, and it needs to be heard."

Mexico City-based Opción Sónica, an independent label founded 15 years ago, has capitalized on the trend with a series of three compilation albums called "Mexican Divas." The albums focused attention on Mexico's eclectic roster of female performers working in styles from medieval chants to electronica, They include top names such as Ely Guerra and Lila Downs, who got her start on the label. Downs and Guerra, along with Julieta Venegas, are among the handful of women who have recently broken away from the alternative pack to win higher profiles and international followings.

But the diva collections also contain works from a group of talented women still laboring in relative anonymity south of the border. They range from the outlandish performance art of Astrid Hadad to the cosmopolitan jazz vocals of pianist Iraida Noriega to the hilarious, irreverent cabaret parodies of Liliana Felipe. Southern California audiences will soon have a chance to see some of these performers in person for the first time. From Wednesday through Oct. 24, several artists on the compilations will appear in a series of monthly concerts titled Mexican Divas Night Live at L.A.'s Mayan nightclub.

Mexico has so many female artists nowadays that the diva collections feature as many as 14 tracks without repeating an artist, and they keep introducing new talent with every volume. The albums sparked collaborations by artists who had previously worked on their own. They include Noriega and singer-songwriter Magos Herrera, who during their L.A. appearance plan to perform a rare type of indigenous song from Michoacan called pirecua, which was originally created for female duet and often combines Spanish and native Indian tongues.

For the series, "the hope is to try to demystify what Mexican singers are about," says Arcos, who is helping publicize the events. "They don't just sing boleros and rancheras. They don't just sing dance music. We also have women who use their music to make a statement. In Mexico, women are finally being allowed to do their own thing rather than being just a token in a man's band."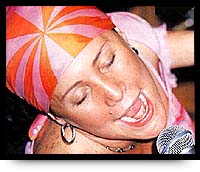 Vocalist and jazz pianist Iraida Noriega still labors in anonymity..
ISADORA HASTINGS

It may seem odd, at this late feminist stage, that Mexican women are still obliged to grapple with stereotypes about their place in society and the music business. But many people still cling to notions about the subservient female and the dominant male in Mexican culture.
Even prominent Mexican American writer Richard Rodriguez, in an interview on National Public Radio's "Fresh Air" this month, helped reaffirm the myth of Mexican women as passive and long-suffering martyrs. In Mexico, Rodriguez generalized, men are sentimental about mothers but cruel toward women, and "casual about their betrayals of the wife." The Mexican male's main mission, he continued, is to have sons "who are as dreadful" as their fathers.
Machismo may be alive and well in Mexico, but you'd have to look high and low to find a modern Mexican woman who would sit still for it. If you missed that point, you haven't been listening to the voice of Mexico's female singers.
In Felipe's wickedly satirical "Mala" (Bad), today's spurned and mistreated woman comes across as outright scary, even in translation.
Bad as censorship, as a hairless garbage mouse/ Bad as misery or a thief in the house/ Bad as the signature of Santa Anna / Bad as taking a stick to your nana/ Bad as strychnine, bad as cold soup/ Bad as a spider, bad and blood-thirsty/ Bad as order and decency.
The song, done as a spoofy ballroom danzón, ends with a flourish and a twist: "Bad, bad, bad, bad/ But hey, fellas, what a pretty girl."

Mexico has always produced excellent music by fine female artists, from the lilting tropical boleros of Toña La Negra to the weepy rancheras of Amalia Mendoza. But it's the tragic figure of Lucha Reyes (1906-1944), with her raw, gutsy style and revolutionary persona, who has served as the key inspiration for today's most daring and provocative performers, including Hadad and Felipe.
Another model for modern divas was Consuelo Velazquez, one of the first prominent female composers working in what was then an all-male songwriting club. Her standard "Besame Mucho" is included on Noriega's beautiful 2001 album "Efecto Mariposa" (The Butterfly Effect). It's a sultry song of desire and abandon that was considered scandalous in its day, says Noriega, who admires Velazquez's determination to compose from the heart as a flesh-and-blood woman.
It all seems tame by today's pop standards in Mexico. Yet the early work of these female pioneers paved the way for the overt sexuality of Rubio and the raw lustiness of rocker Alejandra Guzman, who will be queen of next Sunday's Fiesta Broadway, the annual festival in downtown L.A.
Most modern female pop performers in Mexico project a strong, independent image. The problem, some critics say, is that high-profile stars such as Rubio and Guzman allow their sexuality to be exploited for commercial gain. The new wave of alternative female artists, on the other hand, offer more substance than their pop counterparts. Many write their own songs and arrangements, and play an instrument.
As a group, these women have coalesced into a definable though unruly counterculture. They are not joined by ideology, and they don't share a single genre. They can be either folkloric or avant-garde. They sing in Spanish or English or even dead medieval languages, as in the case of singer and researcher Jaramar Soto of Guadalajara. Some, such as Noriega, resist being tagged as feminists. Others, like Felipe, identify themselves as lesbians.
What unites them is an underdog spirit of survival as artists, despite feeling shut out by Mexico's monopolistic music industry.
In Mexico, the story of pop music for the past 30 years has been inextricably tied to the story of Televisa, the national TV monopoly that operated like an old-fashioned political machine. Until recently, the network had such a tight control on the mass media that it virtually dictated pop music tastes. Pop stars were created out of whole cloth by the Televisa hit-making machine. Rubio and Thalia both emerged in the 1980s from the teen group Timbiriche, manufactured by the network.
In terms of the Televisa monopoly, musicians saw themselves as either in or out. And if you were out, says Noriega, you were nowhere.
"The problem is not Paulina; the problem is all the people behind the scenes who put brakes on everybody else," says Noriega, 30, who started her career at 17. "I'm not saying there should be no Paulinas. I'm saying it's valid for people to hear us too. There's a whole lot of artists here in Mexico who are doing very beautiful work, with a lot of depth, honesty and commitment."
The women of Mexico's contemporary diva movement--including veterans Cecilia Toussaint and Eugenia Leon--carry on the Lucha Reyes tradition of boldly asserting themselves as women and artists. They don't want to sell their looks. They want the public to accept them as whole women, with ideas and convictions as well as passions.

Singer Julieta Venegas is among the few to win a wider following.
KEN HIVELY / Los Angeles Times

They had the talent, but until recently they lacked the means to showcase their creativity. That's been changing in Mexico, with more labels and more places to play, such as colleges and cultural centers.
"Our work is to expose this talent and take it as far as it can go," says musician Ana Ramirez, who runs the L.A. branch of the Opción Sónico label along with her husband, Felix Mejorado of local Spanish rock band Felix and the Katz. "We have to educate the public that our culture has more to offer, because otherwise nobody will ever hear about all these jewels."
As exposure increases, so do audiences. Ely Guerra, for example, sold out a Sunday show at West Hollywood's Key Club following a week of local appearances earlier this month. Her success was seen as a sign that Latin music lovers are hungry for pop alternatives.
Yet for every public success there are a dozen private setbacks. Guerra and other alternative artists confess to moments of self-doubt when they could see no options and find no outlets for their art within the industry.
"Those of us who survived that dark period became stronger," says the husky-voiced Magos Herrera, whose elegant 2000 album "Orquídeas Susurrantes" (Whispering Orchids) has strong Brazilian and Afro-Cuban influences. "It was like a test of your vocation.
"If you stuck it out, it was because you really wanted to be a musician. And so it created somewhat of a cultural elite, artists who became very demanding of themselves and of each other. It was like our way of reaffirming our commitment to do the best work we could do."
* * *
Magos Herrera and Iraida Noriega open the Mexican Divas Night Live series Wednesday at the Mayan Theatre, 1038 S. Hill St., L.A., 8 p.m. $20 in advance, $25 at door. (213) 746-4287.
Agustin Gurza is a Times staff writer.
Copyright 2002 Los Angeles Times