Muñequitos de Matanzas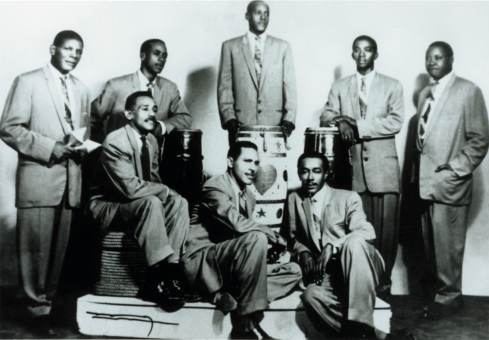 The Muñequitos de Matanzas in 1955, within a year of their founding. Top and center is the young Chacha,quintero of the group.
Formed in 1952, this stellar rumba group is famous throughout Cuba and only recently have they come to be noticed in the US. They charmed audiences everywhere on their first, second, and third US tours, in 1992, 1996, and 1998. Now they will be back in August, 1999 and again in the Spring of 2000.
The group got its start in 1952 in a bar in Barrio Marina in Matanzas, Cuba, when a group of youths began following the rhythms of a song by Arsenio Rodríguez that was then playing, using dishes and bottles, as is the style in "kitchen rumbas." For more, see "the Foundation."
Their discography is a full list, and includes "El guaguancó de Matanzas" (Siboney,88), "Los Muñequitos de Matanzas" (Ace,90), "Rumba caliente" (Qbadisc,92), "Oyelos de nuevo" (Artex,93), "Real Rumba" (Corasón,94), "Vacunao" (Qbadisc,95) o "Po Iban Eshu" (Qbadisc,96).
Los Muñequitos de Matanzas are part of the living legend of African music in Cuba, and they remain very close to their Abakwa (Efik/Efo) roots.
Members:
Diosdado Ramos Cruz General Director / Dancer / Guagua

Jesús Alfonso Miró Musical Director/Quinto / Cajón / Iyá batá

Baldomero Ricardo Cané Gómez Singer / Percussion

Isrrael Berriel González Third voice

Bárbaro Ramos Aldazábal Dancer / Guagua

Vivian Ramos Aldazábal Dancer / Maruga

Ana Pérez Herrera Dancer / Falsetto singer

Alberto Romero Díaz Singer / Claves

Rafael Navarro Pujada Soloist / Claves

Isrrael Berriel Jiménez Soloist / Campana brasileña

Agustín Díaz Cano Salidor / Okónkolo batá

Facundo Pelladito Dancer / Percussion

Iván Alfonso Fernández Percusión